Create An Extremely Efficient Precision Manufacturing Experience
WaxJet 400 adopts mutiJet printing technology for printing smooth surface, high precision casting wax pattern. Large print size, and can be tiled and overlapped to place multiple models, the thickness of each layer is 0.016mm. It's suitable for jewelry, clocks instruments, crafts, precision casting and aerospace precision investment casting field.
WAXJET 400 PRINTING PROCESS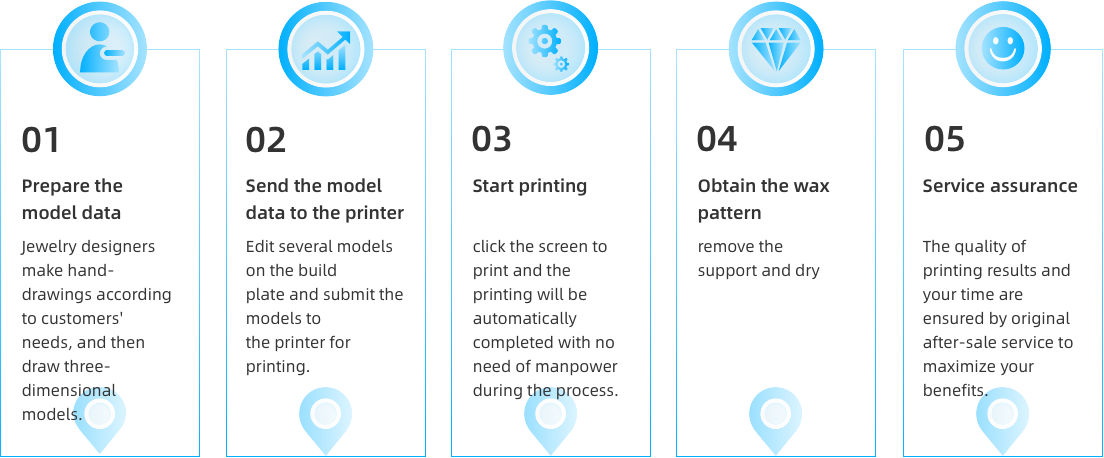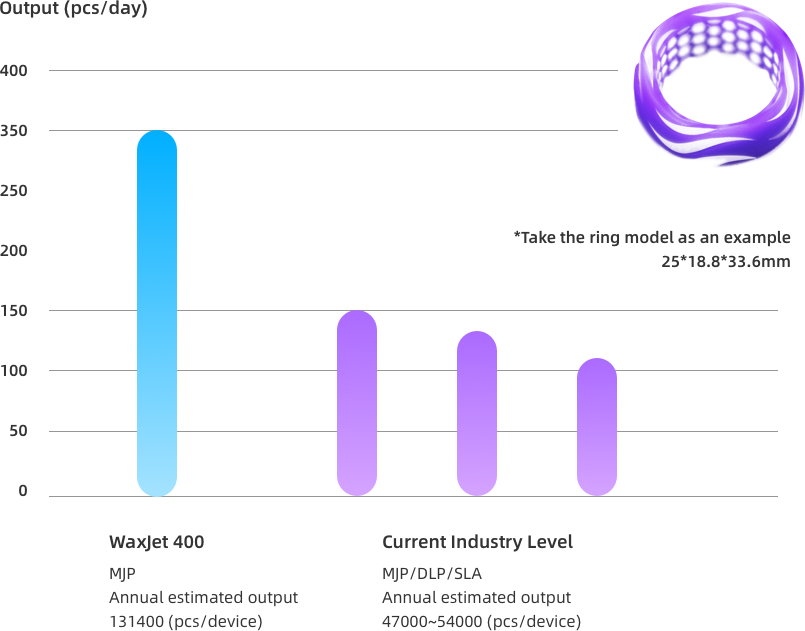 3D Printing Processing
The design costs are reduced while the patterns and complexity are increased due to freedom and flexibility of designers and automatic adding of supporters.
The development cost on plate-making and retouching can be saved and the printing results can be perfectly consistent with designers' style.
The printing results are of great quality and the wax models of can be repeated obtained to save the management fees on models.
Printing for 7*24 is supported and several printers can be operated simultaneously by one person, which largely reduce the labor costs.
The utilization rate of printing filaments is high and their price are stable.
The only thing needed to expand capacity is to increase the numbers of printers, which cover a small area and are easy to manage.
The centralized administration of model data reduces the costs on data protection.
Traditional Processing
The costs in design and training are increased because designers are supposed to design the supporting structure for the models.
Repeated plate-making and retouching increase the development cost.
Various kinds of rings with different sizes and a large quantity raise the management fees on models.
The labor costs are high due to high dependence on skilled craftsmen and high personnel mobility.
Self-production costs are increased for capacity expansion raises the requirements for operation sites.
The model data is to be sent to an external party for printing and the expense on data protection is high.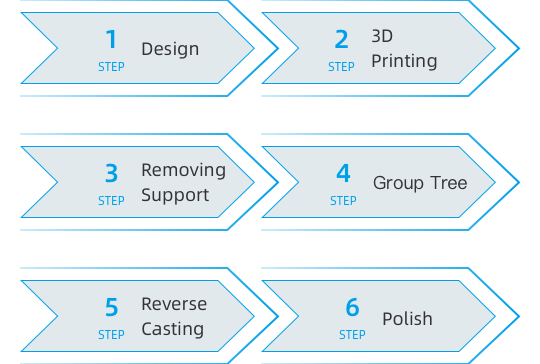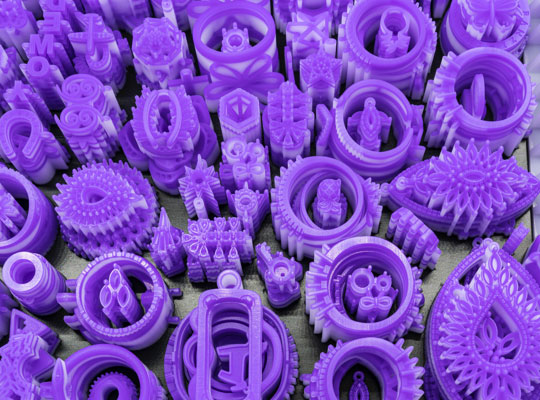 Printing Mode Name:
Patterns
Printing Mode Size:
293.05*210.92*27.13mm
Printing Mode Precision:
1200*1200*1600 dpi
Printing Equipment:
WaxJet400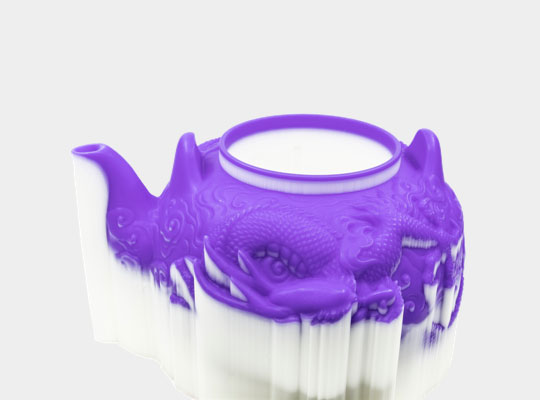 Printing Mode Name:
Teapot
Printing Mode Size:
192.75*176.69*109.70mm
Printing Mode Precision:
1200*1200*1600 dpi
Printing Equipment:
WaxJet400
Product Specification
Molding Method MJP
Molding Size 289*218*150mm
Printing Mode
XHD:1200*1200*1600 dpi
Layer:16um
Dimensional Accuracy ±0.04mm / 20mm
Power Supply AC220-240V,50Hz,4KW
Device Size 1352*775*1600mm
N.W. 480kg
G.W. 630kg
Package Size 1530*900*1837mm
Software Communication
Slicing Software WaxJetPrint
Data Support Format .stl / .slc
Email Notify Applicable
Disk Capacity 500G
Network Connection Network 10/100/1000 ethernet / USB
Guest Operating System Windows 7 / Windows 10 (64bit)
Operating Environment 18-28℃,30-70% of humidity
Material Specification
Part Material FFWJ1100 N.W.:3.0 kg/bottle (2 material bins/ each device, auto reloading)
Supporting Material FFMS3100 N.W.:3.6 kg/bottle ((2 material bins/ each device, auto reloading)
Properties
Condition
FFWJ1100
FFMS3100
Composition
100%wax
Wax support material
Color
Purple
White
Density@95°C(liquid)
0.76g/cm³
0.85g/cm³
Melting Point
68°C
55°C
Softening Point
SH/T 0588-1994
63°C
NA
Volumetric Shrinkage from 40°C to RT
1.10%
NA
Linear Shrinkage from 40°C to RT
GB/T 4985-2010
0.70%
NA
Needle Penetration Hardness
GB/T 4985-2010
9
NA
Ash Content
GB/T 14235.3-1993
≥ 0.01%
NA
Description
High resolution,
durable casting wax
Hands-free dissolvable wax